Learn How Top Advisers Present Advanced Strategies to Help
Clients Minimize Income, Estate, and Other Taxes while Maximizing
Assets in Trusts for Retirement, Family, and Charities
Mouse Over Squares to See Strategies

| | |
| --- | --- |
| 65 | Installment Sale to a Non-Grantor Trust |
| 67 | Preferred LLC |
| 55 | Double Step-Up Planning |
| 63 | Incentive Trust |
| 31 | Sale to a Beneficiary Defective Trust |
| 69 | QPRT |
| 99 | Dynasty Trust |
| 57 | EP Protection |
| 49 | Grantor Retained Annuity Trust |
| 61 | Zero Tax Estate Planning |
| 71 | SLAT - Spousal Lifetime Access Trust |
| 59 | Equity Stripping |
| 101 | Sale of Partnership Interests to a Family Grantor Trust |
| 103 | Tax-Efficient Squeeze Freeze |
| 133 | Wealth Strategy Counseling |
| 147 | Prenuptial |
| 151 | Wealth Dashboard |
| 137 | Family Wealth Blueprint |
| 141 | Financial Checkup |
| 143 | Value Proportion Letter |
| 121 | Family Meetings |
| 131 | Ethical Will |
| 43 | Business Vision and Value Retreat |
| 135 | Family legacy Video |
| 139 | Family Wealth Statement |

| | |
| --- | --- |
| 145 | Optimized Portfolios |
| 105 | Insurance as an Asset Class |
| 107 | Oil and Gas |
| 97 | Tax-Efficient Asset Management |
| 115 | Equity Appreciation Sharing |
| 157 | First Trust Deeds |

| | |
| --- | --- |
| 37 | Pooled Income Fund |
| 163 | Conservation Easement |
| 51 | Super CLAT |
| 53 | Testamentary Charitable Lead Trust |

| | |
| --- | --- |
| 149 | Charitable Redemption |
| 35 | Tax-Deductible Buy-Sell |
| 75 | 162 Plan |
| 79 | Stock Option and NQDC Strategies |

| | |
| --- | --- |
| 39 | Captive Insurance Company |
| 41 | ESOP |
| 19 | Capital Split Dollar |
| 25 | DING/NING Trust |
| 17 | Business Income Tax Planning |
| 21 | Captive Preferred LLC |
| 23 | Cost Segregation Study |
| 161 | Leveraged Captive Insurance Company |
| 27 | Net Operating loss Strategy |
| 29 | Intellectual Property Strategy |
| 77 | Restricted Property Trust |
| 45 | Charitable Remainder Trust |
| 33 | Enhanced installment Sale |
| 47 | Capital Grains Split Dollar |
| 111 | Annuity Income Maximization |
| 153 | High Cash Value Insurance |
| 155 | Income Tax Diagnostic |
| 109 | Retirement Rescue |
| 117 | Family Retirement Account |
| 113 | Defined Benefit Combo |
| 119 | IRA Maximizer |
| 123 | Roth IRA Conversion |
| 125 | Stretch IRA Trust |
| 127 | Statutory Retirement Rescue |
| 129 | Tax-Sheltered Retirement Distribution LLC |

| | |
| --- | --- |
| 13 | Domestic Asset Protection Trust |
| 15 | Offshore Trust |
| 83 | Credit Shelter Trusts with Life Insurance |
| 93 | Life Settlements |
| 95 | Long-term Care Insurance |
| 73 | Financed Indexed UL |
| 81 | Capacity Capture |
| 85 | Premium Financing |
| 87 | Fixed Private Split Dollar |
| 89 | Insurance Trust Review |
| 91 | Insurance Warehousing |
| 159 | Private Placement Life Insurance ("PPLI") |

Click to Order the New 2016 Version Now

The 2016 version has 76 Strategy Flyers(up from 61) in 14 practice areas (up from 12 areas).
See the list here. The $200 price is discounted for past buyers:

Print version: $75
Electronic version: $25

The Best Tools Resources Manual illustrates proven strategies in thirteen areas of most concern to clients. This book helps advisers understand, select, and explain ideas that can help clients generate more tax efficient retirement income, increase transfers to beneficiaries, and redirect tax savings to trust for favorite charities. These are all strategies supported by IRS statutes and/or published tax court rulings. Bravo, Tim!
Dave Holaday, ChFC, CAP,
Wealth Design Consultants, LLC


Tim is hands-down the smartest financial planner in the United States when it comes to communicating advanced planning strategies with illustrations understood by clients. Tim uses his skills as an attorney and MBA to help advisers choose the best stragtegies for clients, illustrate them clearly, and integrate them tax-efficiently. Now Tim makes his wisdom and expertise available in a clear and concise book, The Best Tools Resources Manual. Readers will be extremely fortunate to have this TOTAL PACKAGE of integrated relational and technical expertise.
Bill Lindsey,
MSFS, AEP, RFC


I have reviewed your Best Tools Resource Manual. What an accomplishment! Hats off to you.
Rick Harig, CFP®
Legacy Resources, Inc.


It is great seeing your strategy flyers applied to so many challenging client situations. You are the master.
Irving Katz
Family Business Coach
www.familybusinessauthority.com

Below are Excerpts from Pages 1 and 2 of One of the 76 Flyers
Page 1 (below) describes a typical client situation.
Page 2 (below) shows how the benefits of implementing the strategy can be far greater than the costs.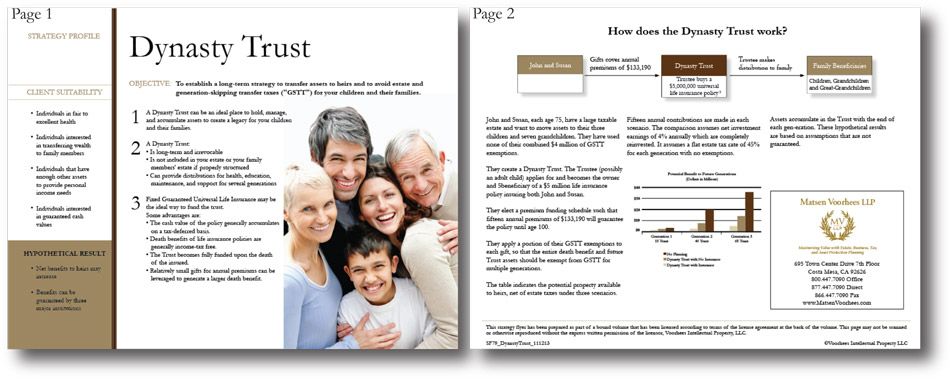 How can you use this book
in your practice?


This Book Equips Advisers to
Present Advanced Concepts



This book provides two-page strategy flyers to explain 76 of the Best Planning Tools for Asset Protection, Business Income, Business Succession, Capital Gains, Charitable, Estate, Executive Benefit, Insurance, Lifetime Wealth Transfer, Portfolio, and Retirement Income Planning Provided by Wealth Strategy Counselors. Page one of each strategy flyer includes a picture of a typical client along with a case study and a summary of the best prospective clients for the strategy. Page 2 includes a bar chart, flow chart, or other graphics to illustrate the potential benefits available to a client who implements the strategy.
ABOUT THE AUTHOR

Throughout his 38 year career as a tax lawyer and investment adviser, Tim has developed and implemented hundreds of Family Wealth Blueprints to reduce taxes while increasing retirement income, enhancing transfers to family members, and augmenting charitable giving potential. Tim teaches Best Tools Workshops for advisers interested in learning how to integrate the most effective zero tax planning tools into financial and estate plans. For a full list of Tim's publications and speaking engagements, visit www.TimVoorhees.com.

FOR MORE INFORMATION

The Best Tools Resource Manual can be licensed for $200. The $200 is refunded when an adviser refers a client who engages Matsen Voorhees LLP for a $5,000 or greater engagement.

The license is available at http://tinyurl.com/BTRMlicense

Please email a signed copy to info@vfos.com or
fax it to 866-447-7090.

For Tim's client-oriented book on zero tax planning,
please click on this image:
| | |
| --- | --- |
| | Matsen Voorhees LLP ("MV") its affiliates do not promote strategies that lack substantial legal authority. All strategies included in this book are already widely known and generally accepted by the legal community. Zero Tax Planning is achieved by use of well-known philanthropic strategies such as revocable bequests, charitable remainder trusts, charitable lead trusts, etc. Legal and investment advice is given only according to terms of retainers with Tim Voorhees' law firm and its affiliated entities. Strategies in the book provide generic advice; personalized planning sessions and webinars are available through www.WebinarCounsel.com. Nothing in these materials is a recommendation or solicitation to buy or sell any securities. U.S. Treasury Circular 230 requires that this firm advise you that any tax advice is not intended or written to be used, and cannot be used by you, for the purpose of avoiding penalties that the IRS could impose upon you. |